Spiral Dynamics Level II Certification Course with dr. Don Beck, the creator of the model



Spiral Dynamics Level II Certification Course
Title of Level II Course:
Signs of Second-Tier Consciousness in Organisations and Across Cultures
Trainers: Dr. Rica Viljoen (SA), Mr. Sergey Solonin (RU) & Mr. Teddy Hebo Larsen (DK)
Event/Place: Pre-conference - IEC, Budapest May 19-20, 2018
Venue: Park Inn Hotel by Radisson Budapest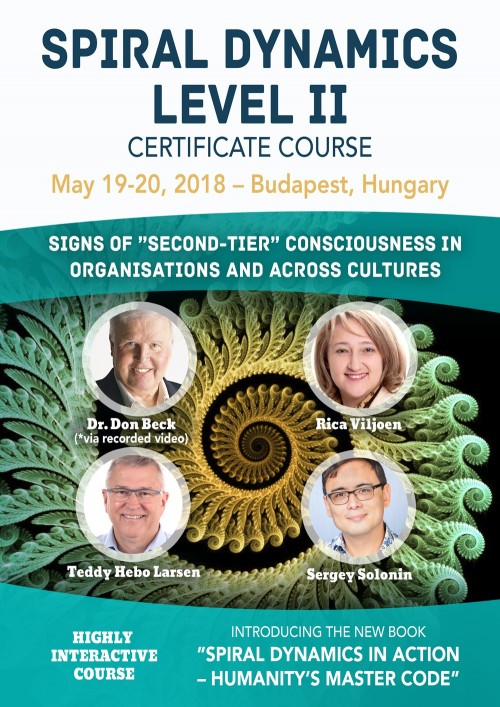 Course description:
During this 2-day Spiral Dynamics Level II Course chaired by Dr. Rica Viljoen, Mr. Sergey Solonin and Mr. Teddy Hebo Larsen the focus will be on identifying and discussing signs of emerging second-tier consciousness (Yellow memev - not to be confused with TEAL) in organisations and across cultures. The course will be highly engaging and interactive and participants will be given the opportunity to work with the practical application of Spiral Dynamics applied on real-life organisational and global geopolitical challenges/opportunities.
In order to bring all participants on the "same page" a summary of the basics of Spiral Dynamics will be offered in the morning on day one.
Objectives of the course:
The objectives of this Spiral Dynamics Level II course is:
to provide participants with a general introduction of the qualities and characteristics of Second-Tier vs. First-Tier consciousness (the 7th code) and how to observe for it;

to give the participants an opportunity to work with the practical application of the Spiral Dynamics principles in real-life complex settings;

to present and discuss examples of organisations/societies which might (might not?) have a Yellow memetic contour;
Format & Content:
The presentation style employs a number of different media forms, from colourful graphics to illustrative music and actual case studies. While we expect to have a great deal of fun in the sessions which are presented in a somewhat festive manner, the course will require hard work since a lot of information is presented in a fast-paced fashion. The principles of Natural Design will make use of the Adizes Methodology and participants will be exposed to a number of successful case studies including an actual on-going major process of applying Spiral Dynamics in a large organisation.
On day two participants will have the opportunity to meet Dr. Don Beck via a video-recorded session in which Dr. Don Beck will talk about the 7'th code (Yellow memev) relative to the global political and economical situation.
Finally, on day two a session fully dedicated to the publication of Dr. Don Beck and co-authors (Dr. Rica Viljoen, Mr. Sergey Solonin, Mr. Teddy Hebo Larsen and Mr. Thomas Johns) new book "Spiral Dynamics in Action - Humanity's Master Code" will be given.
Prerequisite:
Spiral Dynamics Level One certification or basic understanding of the fundamentals of the Spiral Dynamics theory and concept. With this Level II course we will add the next level of complexity.
Program: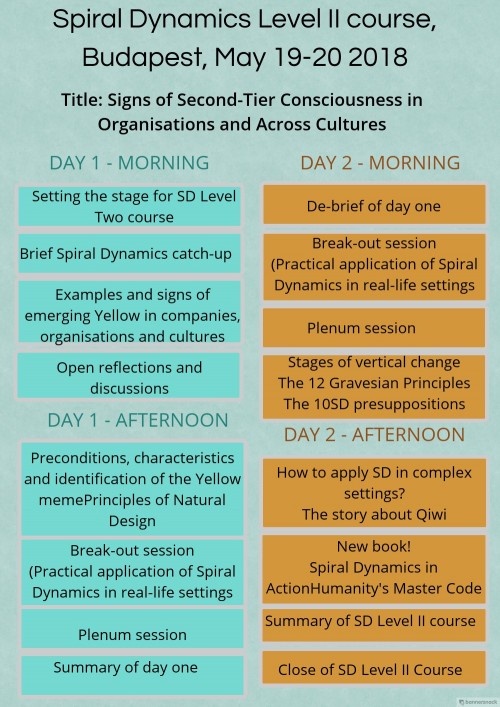 Tickets:
Western European and other countries Eastern European countries
350 EUR 315 EUR 250 EUR 225 EUR
early bird prices until 20 March
Buy Ticket >>>> Buy Ticket >>>>
extform/34
If you have any questions please do not hesitate to contact Anita Monori (monorianitaoxford@gmail.com)!