Spiral Dynamics training with dr. Don Beck, the creator of the model



SPECIAL EVENT!
A EUROPEAN COURSE WITH DR. DON BECK
CLICK HERE FOR FURTHER INFORMATION AND DETAILS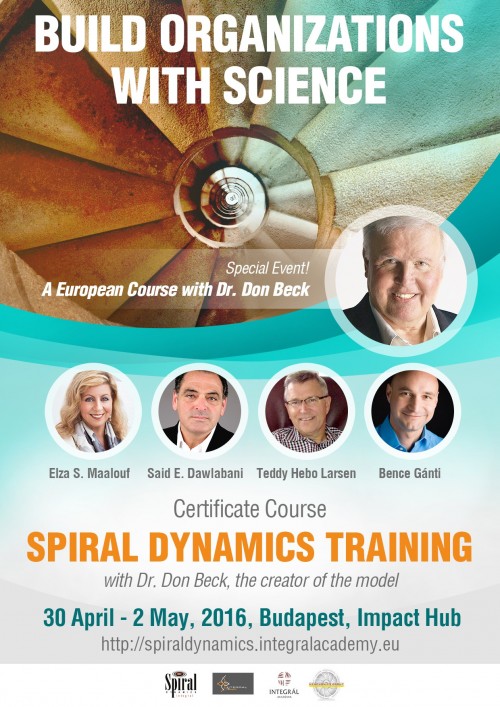 Just a few days before the Integral European Conference 2016 you have a rare opportunity to learn Spiral Dynamics from its creator, Dr. Don Beck!

His highly experienced colleagues, Larsen, Dawlabani, Maalouf, and Ganti have been successfully working with this model for decades in the corporate and business world as CEO, president, executive coach, organizational development expert, political advisor, and educator.
This Spiral Dynamics fundamentals course is designed for people who wish to understand the Graves-Beck Framework in its pure form.
Level I offers an experiential exploration of the eight value systems identified by the Spiral Dynamics/Gravesian bio-psycho-social model.
Day 3 will be an executive summary of a Graduate Level 2 training focusing exclusively on Organizational Design based on the theory.
You will learn
several Second Tier design concepts aimed to help individuals and organizations to unlock their potential.

how to align values within an organization to meet stakeholder goals.

understand the steps and stages that your organization needs to go through to become a resilient Seventh Level Organization.

how to improve employee morale and productivity.

how to align to the Triple Bottom Line.

how to deal with workplace conflict, how to design better job descriptions, and how to handle the millennial employee.
The training will be in English with translation to Hungarian.

Sign up for the 3-day course @ Impact HUB Budapest: http://spiraldynamics.integralacademy.eu/