Ágnes Szombati M.A.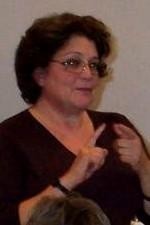 Ágnes Szombati, M.A. jungian analytic, therapist trainer, chairman of the C. G. Jung Complex-psychotherapeutic Association.
Beside jungian analysis she uses hypnosis and relaxation methods.
As a teacher she familiarizes students with the oeuvre of C.G. Jung, the most important ideas and concepts of the jungian method and gives an insight into the way, the methods how a jungian psychotherapy works.