"Prakash" - Ákos Vörös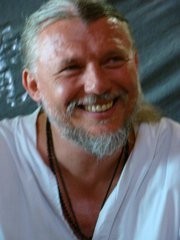 "I was born in 1959 in Tatabánya, Hungary. I graduated as a teacher of Hungarian and Russian language and literature. In 1991 my teacher and friend Ken Cadigan from the United States, who did workshops in Hungary invited my to Maui, Hawaii and finally I stayed there for three years. That trip transformed my life. I was learning from Papaji's disciples Eli Jackson Bear and Gangaji. I also went to India during this period and managed to meet Papaji, one of the best-known disciples of Ramana Maharishi. At Papaji, my spiritual seeking finished, there was no further need to look for who I really was, I found myself, and I arrived.
My spiritual quest had started before that with 6 years of learning Yoga from my Hungarian master and teacher, László Bodri and continued in Hawaii and finally elsewhere in the USA too.
In 1993 I returned home to Hungary and I have been sharing my knowledge and experience ever since, on hundreds of different trainings and workshops. We welcome everyone to our Samadhi Spiritual Community, who is open for awakening."
"Prakash" – Ákos Vörös teaches Ramana Maharishi, Papaji, Osho and Ennegram at the Integral Academy.