Father Pál Ferenc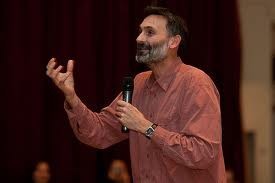 He was ordained as priest on 15th June 1996 in Esztergom. Afterwards he worked as a chaplain in Terézváros and Rákoskeresztúr and from 2002 as parish priest in Óbuda. Since 2011 he is a chaplain in Angyalföld. Since 2005 he is a staff-member of SOTE Mental Hygiene Institute (supporting connection, psychodrama group facilitator, biblical dramatist). He was honoured with the Golden Excellence Medal of the Hungarian Republic on 20th August 2011.

Since the beginning of his career as priest, he gives weekly speeches for young people in the themes of psychology, teology and mental hygiene. The topics of the evenings come from a quite broad range – they touch upon spirituality and social sciences, conflicts within communities and families, the questions of personal mental balance and marital problems or the problematics of our relationship to the transcendental.
A typical feature of his evenings is their well-structuredness and the intensive usage of the specialist literature available on the topic and he also has a very unique style: informal, often discursive, humorous.