Devalon James Small Legs LTT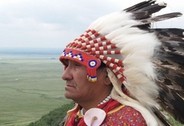 Devalon is a medicine man of the Canadian Pikkuni Black Feet nation, from Alberta. During his travels in Europe he often comes to Hungary, where he is offering his traditional healing ceremonies, like sweat lodge, vision quest and sun dance. His mission is to help restoring the natural relationship between Humans, the Creator, the Spiritual Guides and Mother Earth through the ceremonies of his culture. His also facilitates different nations to find their way back to their own ancient roots, cultures and ceremonies.
Native American spiritual rituals are used for recreation, healing, and the purification of the body and mind. Each ritual is preceded by a personal talk with the medicine man. Devalon's personality and his teachings full of heart, that have helped many people in Hungary to renew their lives, and to make the necessary steps forward. Besides representing his own tradition, Devalon also studies Buddhism, and draws beautiful parallels between spiritual cultures, that points to the common ground of all spiritual traditions. If one meets with Devalon, understands prayer, humility, and respect, core qualities of the spiritual heart.
Devalon teaches about the native spirituality at the Integral Academy.